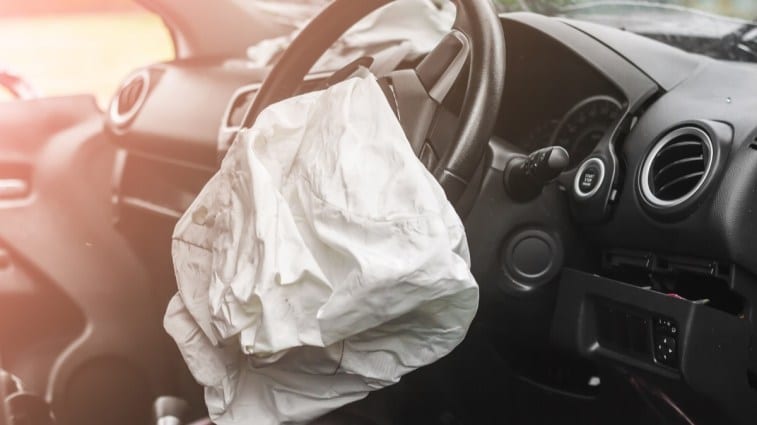 The National Highway Traffic Safety Administration (NHTSA) has opened an investigation into whether airbag inflators manufactured by a Tennessee-based company may be prone to exploding, sending hot metal fragments flying toward drivers in accidents.
The investigation has eerie parallels to the largest recall in automotive history. But the company involved disputes the agency's conclusions.
We'll explain the parallels and differences between the Takata airbag recall and the investigation that threatens to trigger a repeat of it involving another company.
How Airbag Inflators Work
Airbags must inflate in a split second in order to do their jobs. They do that thanks to inflators — tiny metal capsules containing chemicals that combine to create a rapidly expanding gas. In an accident, the inflator is supposed to squirt that gas out of a nozzle, quickly inflating a folded airbag so that it can cushion occupants from hitting collapsing car parts.
The Takata Airbag Recall
Since 2014, automakers have recalled more than 67 million cars that contained airbag inflators manufactured by the since-closed Takata company. Those inflators, safety experts say, can explode with so much force that, rather than squirting out the nozzle, they just burst the capsule. That sends hot shrapnel flying toward drivers and passengers.
In its heyday, Takata manufactured airbag inflators for much of the global automotive industry.
Takata-related recalls have affected cars sold under at least 34 brand names on five continents. Investigators blame Takata airbag inflators for dozens of deaths worldwide, including at least 25 in America — four just last year.
Most cars that once had Takata airbag inflators have since had them replaced with safer models. But, because of the sheer size of the recall, millions of drivers are still in danger from them. NHTSA estimates that as many as 17 million unrepaired cars may still be driving on American roads with the dangerous parts inside.
Takata inflators become more dangerous over time as the chemicals inside grow more volatile.
But automakers consistently struggle to get drivers to pay attention to recalls. In several recent cases, drivers have been killed by Takata airbag inflator explosions after automakers contacted them hundreds of times to urge them to get free repairs immediately.
Several automakers, including BMW, Chrysler and Dodge, and Honda, have escalated their recall efforts in recent months, urging drivers to park their cars and not drive them again until inflators are replaced.
NHTSA's investigation of ARC Automotive Inflators
NHTSA has begun investigating an allegedly similar problem involving inflators made by Tennessee-based ARC Automotive.
In a letter to the company, the agency says it learned of "seven domestic field events involving subject driver and passenger inflators" and "an ARC inflator field rupture in Canada, which resulted in a fatality."
The agency says it "has tentatively concluded that a defect related to motor vehicle safety exists" and has written to the company "to demand that ARC issue" a recall.
The problem alleged with ARC Automotive inflators differs from the one found in Takata inflators. NHTSA says that, in some ARC inflators, debris from the welding process may block the nozzle. When gases can't vent out the nozzle, they may burst the capsule instead.
The company changed its welding process in January 2018, the agency says. All inflators alleged to have exploded were manufactured before the change.
In an odd coincidence, the agency says this potential recall may affect as many as 67 million cars.
ARC Automotive's Response
In a statement, ARC Automotive tells the Associated Press, "We disagree with NHTSA's new sweeping request when extensive field testing has found no inherent defect."
ARC Automotive has written back to dispute NHTSA's allegations, The Drive reports. In a letter, ARC tells the agency its recall demand is "not based upon any objective technical or engineering conclusion regarding the existence of a defect" but just a hypothesis.
The company maintains that weld slag was not found in all of the alleged incidents. ARC also notes that automakers, not parts suppliers, are legally responsible for recalls.
What You Should Do Now
Unfortunately, drivers have almost no way of finding out whether their cars contain ARC Automotive airbag inflators.
General Motors has issued a recall alert for nearly 1 million SUVs to replace ARC Automotive inflators, even before the dispute is resolved.
The AP reports, "GM says it will offer 'courtesy transportation' on a case-by-case basis to owners who fear driving vehicles that are part of the recall."
We hope to see other automakers follow suit and will continue to bring you updates.
Check whether your car has any outstanding recalls with the easy VIN tool at our recall center.