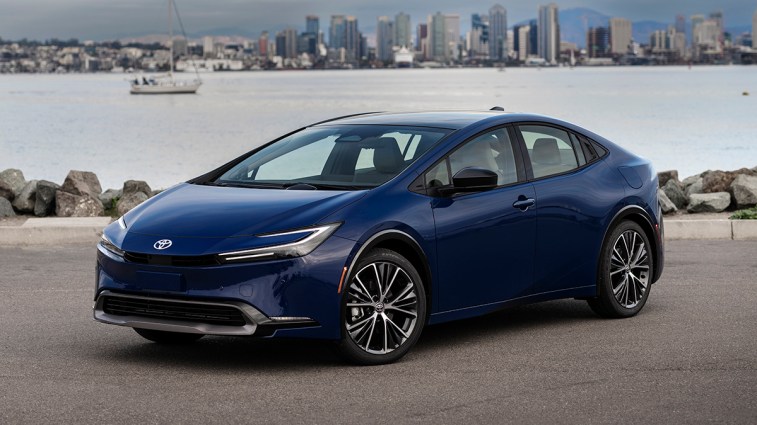 Toyota dominates hybrid sales in America but has been slow to embrace the rise of electric vehicles (EVs). A leaked document sent to Toyota dealers makes a pretty good case for the idea that hybrids may be a better solution.
Jalopnik reporter Tom McParland says "a Toyota dealer contact" sent him the document. It tries to "explain to the dealer network why they should expect to see more hybrids on their lots and not so many EVs" or plug-in hybrid vehicles (PHEVs).
1 EV = 6 PHEVs = 90 Hybrids
It argues that the minerals found in EV batteries are the most important barrier to widespread EV sales. "The amount of raw materials in one long-range battery electric vehicle could instead be used to make six plug-in hybrid electric vehicles or 90 hybrid electric vehicles," it says.
"The overall carbon reduction of those 90 hybrids over their lifetimes is 37 times as much as a single battery electric vehicle."
Plug-in hybrid vehicles are a step between hybrids and EVs. They can travel a certain distance – usually around 30-40 miles – on electric power alone before igniting their gasoline engine.
Skeptical Take: Speaking Like the Company Trailing the Pack
A bit of skepticism might be warranted. Toyota has struggled to catch up to other automakers in EV sales. Its first mainstream EV, the bZ4X small SUV, suffered an embarrassing early recall when the company revealed that improperly tightened wheels could fall off while driving. It took Toyota months to solve the problem, and the company ultimately bought back some cars rather than fix them.
Toyota is also rushing to catch up, promising dealers in the same document that its Lexus luxury brand will be EV-only by 2035.
Hybrids Still Outsell EVs
But the company didn't become the world's largest automaker without understanding car shoppers. Kelley Blue Book research shows that twice as many shoppers consider a hybrid as an electric car.
New federal tax credit rules are intended, in part, to reduce the auto industry's reliance on EV battery minerals that originate in China. With limited mineral access, Toyota may be right that building 90 hybrids makes a bigger difference to worldwide carbon output than building one EV.