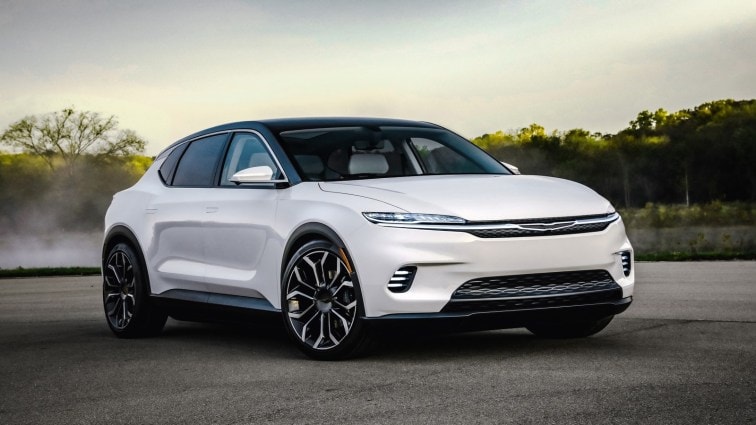 Chrysler plans to sell nothing but electric cars by 2028
. But the company's timeline for the change is getting compressed.
A year after unveiling its first planned electric vehicle, Chrysler has reportedly killed it.
Airflow Name, Design Scrapped
Last January, the company unveiled a low-slung midsize crossover with a name borrowed from history. The Airflow — named after a 1934 Chrysler that changed car design with its aerodynamic form — looked low and mean, and sporty.
Rounded lines and high wheel arches made it look aggressive — almost a more streamlined Kia EV6. Chrysler said it would use two electric motors for standard all-wheel drive and put out up to 402 horsepower.
Inside, a screen-heavy look and white leather with light gray trim made it look modern and light.
It's reportedly not to be. Motor Trend reports that new Chrysler CEO Chris Feuell "came into the job with a new eye and rulebook she wants to play by."
That means redesigning and renaming the brand's first EV.
A Mystery Takes Its Place
The new model will have "some of the Airflow's features and aesthetics" but "a more modern and tech-forward design inside and out," MT says. "It will be offered with both 400- and 800-volt systems for fast charging. Customers can choose between a standard and long-range version, with a range of up to 400 miles."
What will it be called? The company still hasn't decided. But Feuell says, "We are definitely not going down the alphanumeric path." Many automakers give cars alphanumeric names, like Chrysler 300 or BMW 3 Series, because they work in multiple languages and can be trademarked.
What does it look like? Few outside the company have any idea. Chrysler lead designer Ralph Gilles says it tested well at customer clinics, and "we're pretty stoked about it." But the car "won't be revealed to the public until next year," MT says.