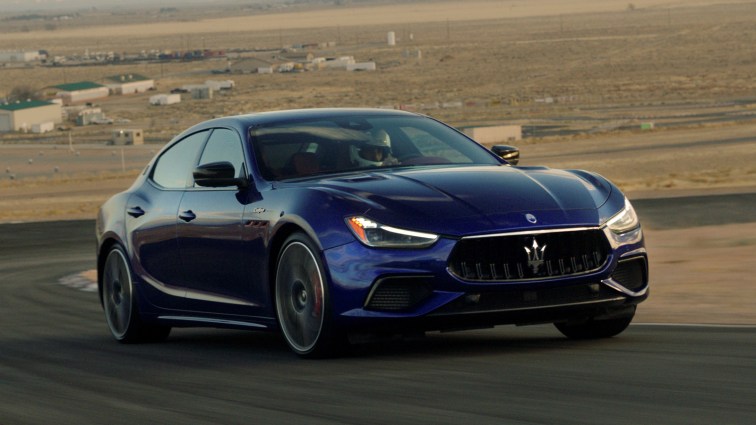 Good car designers focus on a sense or two. They work with the visual, sketching and bending to make a car beautiful. They work with feeling, planning the way the car will move and how the driver's body will move in response.
Great car designers focus on more than a sense or two. The neglected element in many just-okay car designs is sound. Likable cars look and feel great. Unforgettable cars also sound amazing. That can mean a perfectly-tuned stereo. But, in the best of them, it means the car itself sounds right. A car that provides a moving soundtrack of its own with the stereo off is a car you'll remember driving.
We bring this up to give you sad news. One of the best-sounding engines in automotive history is beginning its farewell tour.
At today's Motor Valley Festival in Modena, Italy, Maserati will announce the end date for its V8 engine. The 572-horsepower 90-degree twin-turbocharged V8 engine in the high-performance Trofeo trims of most Maserati vehicles "will officially cease production at the Maserati factory beginning late 2023."
Maserati's twin-turbo V8 is fast and powerful, but most big Italian engines are fast and powerful. Maserati's version has always set itself apart with a burbling, throaty exhaust note. From outside the cabin, it's extraordinary – you notice a Maserati coming before you see it. From inside the cabin, it feels like faith in human accomplishment. It feels sensual. A creative Maserati PR rep – we're not making this up – once sponsored a study measuring arousal in people who listened to the sound.
That is, of course, absurd. But no one ever listened to even the best turbocharged 4-cylinder and thought of doing that.
The last Maserati V8s will go into a pair of celebratory editions — the Ghibli 334 Ultima and the Levante V8 Ultima. We know nothing about them yet except that they are based on the high-performance Trofeo editions of those cars and that longtime Maserati lovers will call their dealerships today to get in line for one while they can.
What's next for Maserati? The brand says it will focus on new developments for its lineup of Nettuno V6 engines, "which incorporates F1-derived technologies into the power unit of a standard production car for the first time."
But the most high-performance Maseratis – you guessed it – will be electric. "By 2025, all Maserati models will be available in a full-electric version, and the entire Maserati range will run on electricity alone by 2030," the company says.
"The GranTurismo Folgore will be the first 100% electric car in the brand's history, while the Grecale Folgore will serve as the brand's first fully electric SUV –  they are the first to bear witness to this process of change and will be available in Q4 of this year in North America."
What do they sound like? We haven't had seat time yet. But the few people outside Maserati who have been fortunate enough to drive the new EVs report that the company has engineered a unique artificial sound. We have no idea if it will move you. But if anyone knows how to make a noise like that, it's Maserati – so let's all hope they're tuning it very precisely.