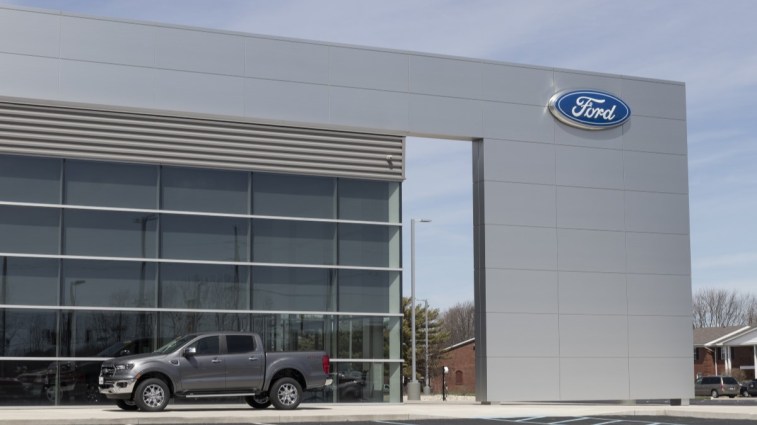 Ford plans to move to non-negotiated prices for all its vehicles, CEO Jim Farley told investors yesterday. Farley did not place a time frame on the decision.
The announcement came as part of Capital Markets Day — the first in-person conference for investors Ford has held since 2016.
Move May Apply to All Vehicles or Just EVs
Reports differ on exactly what Farley said. The Associated Press reports that the CEO "said Ford will go to non-negotiated vehicle prices." But the Detroit Free Press says, "Non-negotiated prices will be part of improving the customer experience for electric vehicle [EV] shoppers," suggesting that the policy may apply only to EVs.
Not The First Time Ford Has Suggested This
It's not the first time Farley has suggested the move. Last summer, he suggested that Ford move to a Tesla-like model of selling cars only online, for fixed prices, and using dealerships as local distribution and service centers.
Farley later told dealers he would not follow that plan after most dealers committed to selling EVs for no-haggle prices.
Competing in Fewer Spaces
Farley also told investors Ford would pull back from some market segments where other automakers are doing well. The AP says Farley promised to "reduce investment in hypercompetitive market segments such as 2-row smaller SUVs."
Ford currently sells two compact SUVs under the Ford name — the Escape and Bronco Sport — and the Lincoln Corsair compact luxury SUV. Farley didn't announce that any of the models would disappear, but the announcement calls their long-term futures into question. All three have had recent updates that should make canceling them unlikely for several years.
Instead, the company seeks to sell more of its "iconic vehicles," such as large pickups and the Mustang muscle car.
Ford has increasingly concentrated on selling just a few products and building many special editions of those. The company stopped making sedans entirely in 2019.