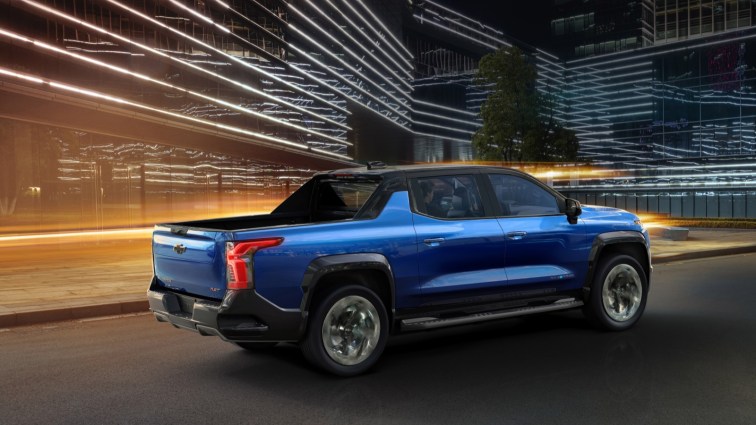 When Chevrolet
first unveiled
its planned
Silverado EV
last January, the company made a prediction that seemed unlikely: it promised a range of 400 miles. That would easily exceed the 320-mile maximum range of
Ford's F-150 Lightning
and the 355 miles of its own
GMC Hummer
cousin.
They missed the mark.
The Silverado EV, according to General Motors president of North America Rory Harvey, can travel 450 miles between charges.
Towing, Hauling Concerns Make Range More Important for Pickups
If true, that wouldn't quite make the massive truck the longest-range electric vehicle for sale in the U.S. That title still belongs to the rare Lucid Air luxury sedan, with 520 miles.
But the figure is promising because electric range is a more serious consideration for hard-working trucks than for electric luxury cars or small EV commuters.
Americans expect a lot from our trucks. We treat them as family cars but want them to haul and tow with little change in performance.
All trucks lose range when hauling or towing. But that's a more serious consideration for electric trucks than for gas-powered models. Refilling your gas tank is quick, and gas stations are easy to find in most of the country. Refilling a battery takes much longer, and charging stations are uncommon in many parts of the country.
No Independent Verification Yet
A few important caveats to Chevy's big boast:
The EPA has not weighed in. So far, this is something a Chevrolet executive said on a call with the media. It will likely be long before the government tries independently verifying it.
Harvey said the number applies to the Silverado EV WT – a fairly spartan work truck aimed mostly at fleet buyers. Private buyers tend to buy trucks that are both more powerful and heavier, thanks to added features. Both of those factors reduce range.
Could Be Big News for Other GM EVs
The figure is also interesting because it may apply to other Chevy models. Almost all of GM's electric vehicles (EVs) use the same Ultium battery and motor technology as the Silverado EV. If GM engineers are learning how to stretch more range out of it, that could be good news for models like the planned Chevrolet Blazer EV and future versions of the Cadillac Lyriq SUV as well.