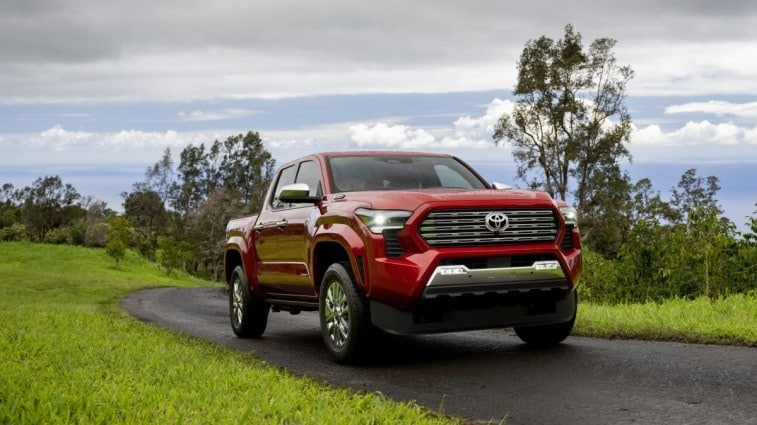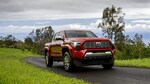 As truck-crazy as Americans are, it's genuinely weird that there's only one truck builder that does midsize trucks justice. Everyone else has brought out new midsize trucks with fewer configurations and few engine choices. Toyota, meanwhile, holds a tremendous sales lead on the rest of the field and gives buyers a lot of choices. More than ever, starting soon.
Toyota just pulled the sheet off a wheels-up redesign of its Tacoma midsize truck, and your choices have only expanded.
Toyota has not announced pricing for the 2024 Tacoma. The 2023 version starts at $28,250. We anticipate a price increase to account for new equipment and inflation. But, with Toyota's obvious respect for the different needs of many buyers, there will probably still be a base model not far above the $30,000 line.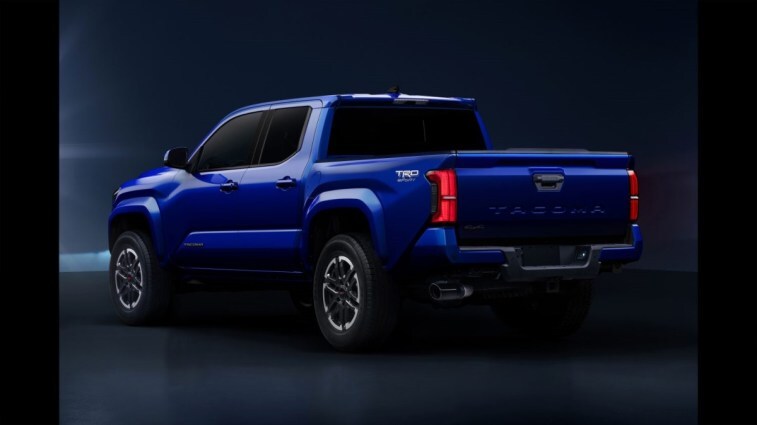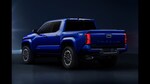 Blockier Look
Sketching a new Tacoma can't be an easy task. Designers had to make it obvious this was a new model while respecting that the lineup's lean look has worked for many buyers. Early teasers had us worried they'd bulk it up too much. We're happy to say they didn't.
The 2024 Tacoma borrows some of its big brother Tundra's new boxiness. But the look isn't overdone. The 6-sided grille hasn't grown much. The new headlamps kick up at the outside corners like cat-eye eyeliner.
There's one off-note in the look — a huge plastic air dam hanging low like a chin beard. It's sure to get scraped off on a high curb eventually and improve the look.
Bigger, blockier fender flares were inevitable, given truck design trends. But keeping them body color helps keep them from looking silly.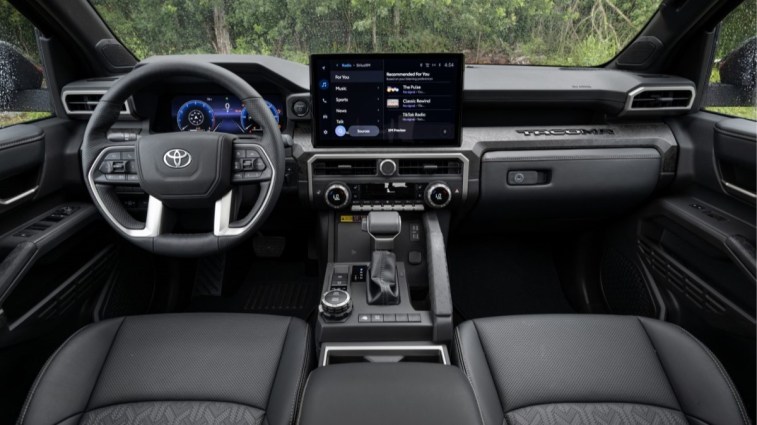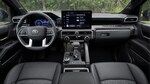 Interior Gets New Style, Bigger Screens
Inside, the blocky truck theme continues. But it's not cartoonish. Base models get a 7-inch driver's display screen and an 8-inch central touchscreen, but neither looks comically small because they're well integrated into the dash.
Higher trims get a 12.3-inch driver's screen and a prominent 14-inch central touchscreen. They're integrated with a little less subtlety — passersby will note, "Dang, that's a big screen" from several feet away.
There are still simple buttons and knobs for climate and audio, big enough to handle with gloves.
Apple CarPlay and Android Auto are standard, with an optional wireless charger.
The fun part is an optional JBL sound system. It has a subwoofer and 10 speakers, one of which is detachable. It slots into the top of the dash and acts as the center channel when attached. Detached, it's a portable Bluetooth speaker.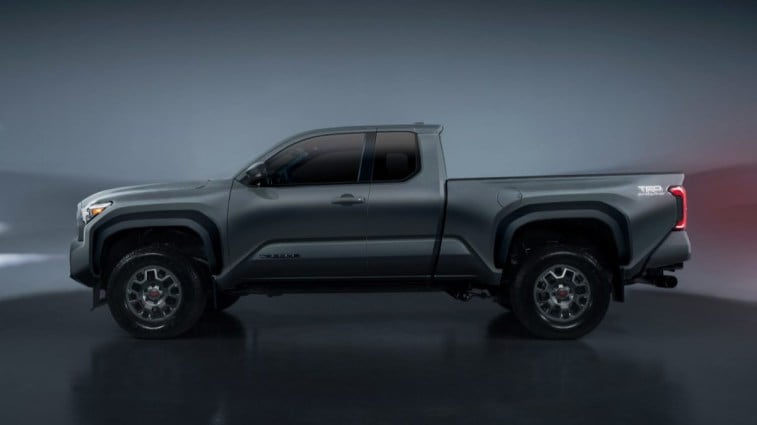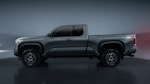 Two Cabs, Two Beds
The Tacoma's most important competition — the Chevrolet Colorado and GMC Canyon — now come only in a crew cab, short box configuration. Ditto the all-new 2024 Ford Ranger.
Toyota, thankfully, didn't go down that route.
The 2024 Tacoma will be offered in an extended cab configuration with a 6-foot bed. Strangely, it has lost its rear seats – the area behind the front seats is now all lockable storage.
Other configurations get a quad cab. Buyers can select either a 5- or 6-foot bed with the 4-door.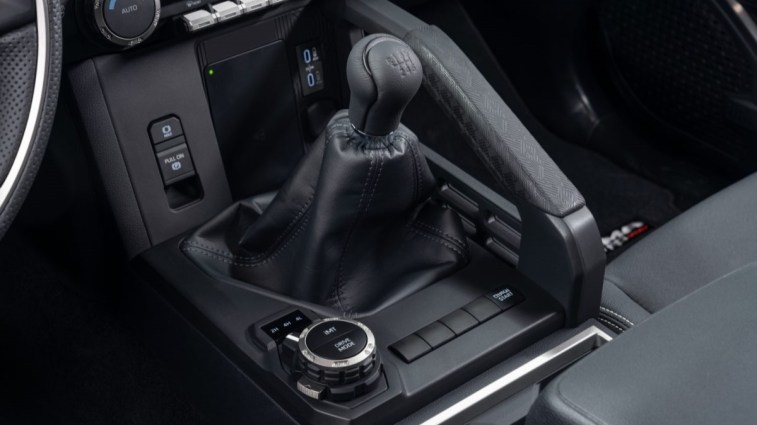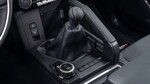 Choice of Powertrain, Manual Still Available
Toyota knows plenty of truck shoppers are traditionalists and just want a reliable gas engine. For them, there's a turbocharged 2.4-liter 4-cylinder called the i-Force. It makes 278 horsepower when paired with an 8-speed automatic transmission.
It's available, though, with an old-school stick shift. Paired with the 6-speed, the engine makes 270 horsepower.
The gas-powered version gets the tow rating you'll see in commercials — it'll pull 6,500 pounds or can carry 1,709 pounds in the bed.
Toyota, however, is the hybrid company. It'll be the first to build a hybrid midsize truck. The available i-Force Max hybrid pairs the same turbocharged 4-cylinder with a 48-volt electric motor. Together, they're good for 326 horsepower.
The hybrid system also gives you 2.4 kW of onboard power to plug tools and accessories into outlets in the bed.
Curiously, Toyota has not announced fuel economy numbers. So we don't know if the hybrid does what hybrids are meant to do.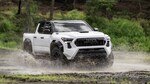 Eight Trims, Three for the Bush
The Tacoma will once again be the most customizable midsize truck. Toyota will offer a remarkable eight trims. The base SE and midlevel SR5, TRD PreRunner, and TRD Sport will probably meet most drivers' needs. But there's also a well-equipped Limited for those looking for a near-luxury truck. TRD Off-Road models add more trail capability thanks to Bilstein shocks with remote reservoirs.
The two worthy of their own discussions are the ultra-capable TRD Pro and the new Trailhunter — a model designed to be modified for overlanding.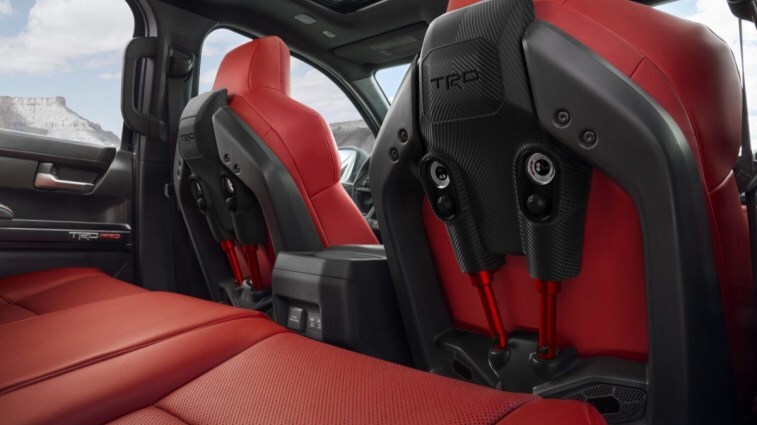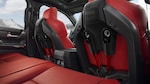 TRD Pro With Seats by Tony Stark
The TRD Pro gets more ground clearance, sitting 2 inches higher in the front and 1.5 inches higher in the rear. It rides on chunky 33-inch Goodyear tires and gets an aluminum front skid plate in case you misjudge what you can clear. Up front, 2.5-inch Fox shocks get 3-mode manual adjustability. A multilink setup springs the rear.
The TRD Pro comes only with the hybrid engine setup.
The headline on the Pro, though, is the seats. Yes, the seats. They look like robotic exoskeletons.
Toyota says the ball joints and air-over-oil shock absorbers built into the seats should reduce fatigue when off-roading. They can be locked when you don't want your seat to move with you. The added shock absorption for your back does mean the seats don't recline.
They could be a benefit or a gimmick, but we can't help but point out that it's been done before. Jeff Glucker at our sister site, Autotrader, saw them and immediately noted that his 1991 Mitsubishi Montero has something similar. If it were a game-changing technology, it would have made it out of the '90s.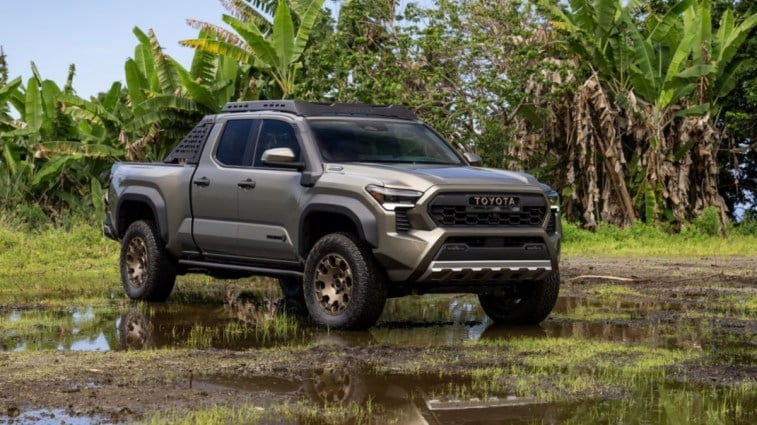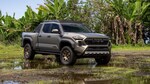 Trailhunter Ready to Customize
The other off-road trim is something new. The Trailhunter is a dedicated overlanding model, with some off-road camping modifications built in and pre-done wiring and mounts for others.
It gets the same 33-inch tires as the TRD Pro. The same suspension lift, too, but here it comes, thanks to Old Man Emu shocks. This model, after all, was built with help from Australian outfitter ARB.
In the bed, you'll find an onboard air compressor. A snorkel up the A-pillar is standard and nicely integrated so that it's almost hidden. There's a 2,400-watt AC inverter, pre-wired for accessories, with three toggle switches on the dash.
A standard sport bar, rook rack, and available rear bed rack let you configure the living arrangements up high.
We're waiting on the price to see just how kind Toyota has been to overlanders. But on first blush, we're impressed. It looks like a great platform for a subculture of drivers used to making do.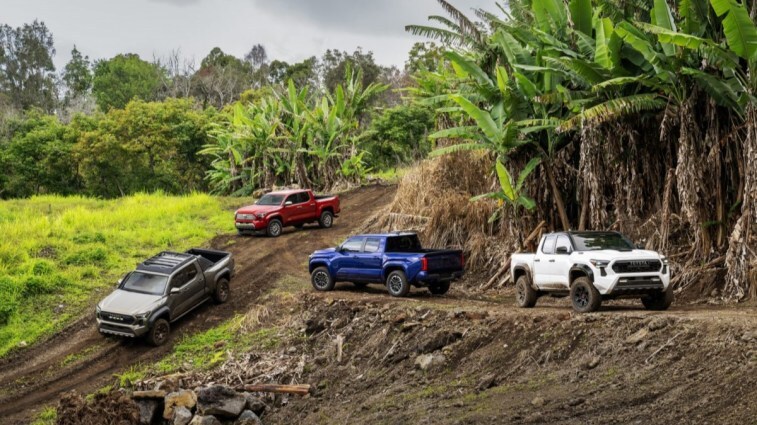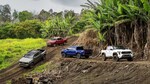 Changing the Market by Not Changing its Approach
We'll have to get behind the wheel to know for certain. But it looks like Toyota has given shoppers a long list of choices that will let them select a capable truck that meets their needs. It can be a hard worker, a comfortable commuter, an off-road beast, a near-luxury ride, or even a roving campground. It can seat two or five and have enough bed space for weekend projects or worksite use.
That shouldn't be remarkable. You could say almost that much about most midsize trucks just a few years ago.
But other truckmakers have put all their focus into building full-size trucks with lots of flexible options and, if we're telling the truth, just phoned into the midsize segment recently.
Ford at least gave the world an exciting new Ranger Raptor last week. But the new Ranger gets just one cab and bed configuration as well. The Jeep Gladiator is unique enough to only get half a seat in this discussion. But if you want an open-air truck, you'd better like four doors and a short bed.
Toyota has given the world two cab options, two bed options, two engine options, two transmission options, and eight trim levels, two of which are highly specialized. Let's celebrate that while we wait for pricing data.